Ultrasonic/Infrared Steam Trap Testing
Steam energy, whether produced on-site or purchased from a power utility, typically accounts for one of the main operating expenditures of any commercial or industrial facility. The incorrect functioning of even a small percentage of steam traps can result in significantly higher energy costs. Malfunctioning steam traps can also cause severe operational problems as well as allow dangerous corrosion damage to nearby piping and related valves. Annual steam trap testing is the best way to ensure limited operational costs and maximize the efficiency and longevity of any steam system.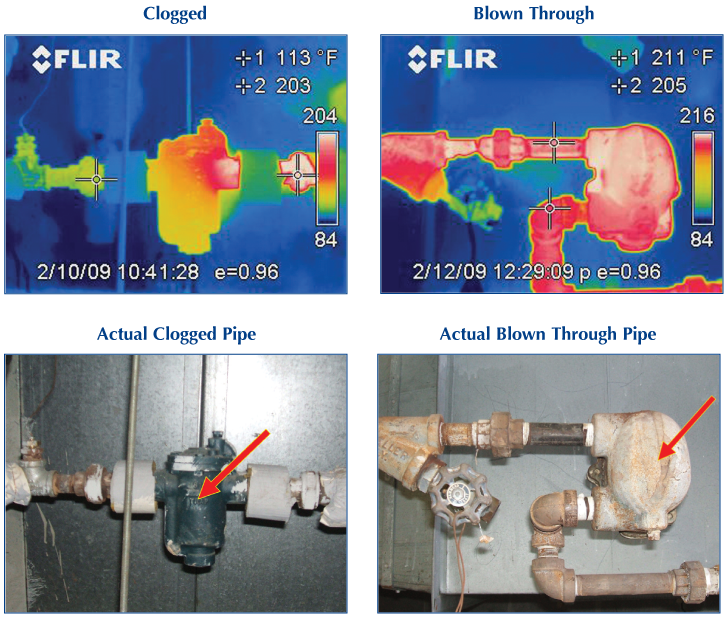 At ThermoTesT we combine state of the art technology with certified and experienced personal. Using ultrasonic and infrared testing combined is the most accurate way to identify steam traps that are blowing, plugged, short cycling and leaking. All failed traps are then put in a dollar loss cost analysis based upon operational costs of 1000 pounds of steam produced. This calculation gives our clients an annual estimate of wasted energy costs in their system. All traps will be tagged, photographed and put in an itemized report that includes trap type, model, orifice size, pipe size, application and location.
Don't continue to ignore the massive waste of energy an inefficient steam system has given you. Contact us today for an estimate on performing an ultrasonic/infrared steam trap survey at your facility immediately.