Ultrasonic/Infrared Steam Trap Testing
Steam energy, whether produced on-site or purchased from a power utility, typically accounts for one of the main operating expenditures of any commercial or industrial facility. The incorrect functioning of even a small percentage of steam traps can result in significantly higher energy costs. Malfunctioning steam traps can also cause severe operational problems as well as allow dangerous corrosion damage to nearby piping and related valves. Annual steam trap testing is the best way to ensure limited operational costs and maximize the efficiency and longevity of any steam system.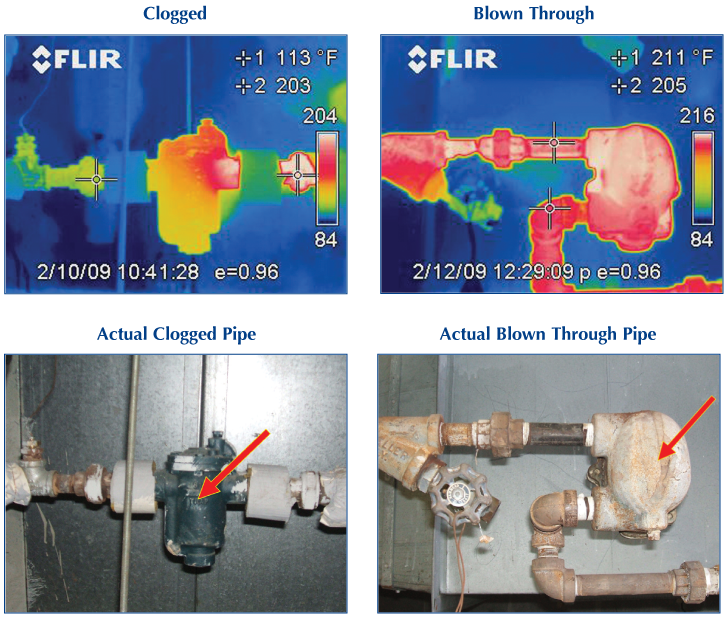 At ThermoTesT we combine state of the art technology with certified and experienced personal. Using ultrasonic and infrared testing combined is the most accurate way to identify steam traps that are blowing, plugged, short cycling and leaking. All failed traps are then put in a dollar loss cost analysis based upon operational costs of 1000 pounds of steam produced. This calculation gives our clients an annual estimate of wasted energy costs in their system. All traps will be tagged, photographed and put in an itemized report that includes trap type, model, orifice size, pipe size, application and location.
Don't continue to ignore the massive waste of energy an inefficient steam system has given you. Contact us today for an estimate on performing an ultrasonic/infrared steam trap survey at your facility immediately.
Click to View the ThermoTesT Steam Brochure
WHY SHOULD YOU HAVE YOUR STEAM TRAPS TESTED?
A steam system that has not been maintained for a period of time will have many failed traps.  Experts estimate that facility with no active steam trap testing program in place will have 50% of its traps blowing steam.  These failed steam traps not only spike wasted energy costs, but also minimize the efficiency of your heating system.  Implementing a regular testing program will solve these problems.
WHAT ARE FAILED STEAM TRAPS COSTING YOU?
With energy prices on the rise, now it's more important than ever to have cost saving steam trap program in place.  To understand the cost of steam trap failure consider this:  An unchecked blowing steam trap at 150 pounds per square inch with an orifice diameter of 3/16 inches will waste 130 pounds of steam.  Using an average cost of steam at $12.00 per 1000 pounds produced, one blowing trap will expend approximately $38.50 per day, or an amazing $14,050 a year.  The first step in determining how much your facility might be wasting is to conduct a steam trap survey.  Most of our clients see a full return on testing and repair costs in only 2 months!
HOW OFTEN SHOULD I HAVE MY STEAM TRAPS CHECKED?
An annual testing program is recommended to ensure a maximum return on your investment.  This includes a full diagnostic report on all steam traps surveyed from year to year.
WHAT DOES MY THERMOTEST STEAM TRAP SERVICE INCLUDE?
All surveyed traps are tagged with permanent brass tags for the purposes of easy identification as well as tracking and trending.
Inspection for faulty check valves and steam leaks in addition to trap testing
All failed traps tagged and photographed to be put in an itemized report
WHAT DOES MY THERMOTEST STEAM TRAP REPORT INCLUDE
Complete master trap listing of all steam traps tested including trap type, manufacturer, model, application, pipe size, orifice size, and location of trap
A dollar loss cost analysis based on-line pressure, degree of failure, and specific client cost to produce 1000 pounds of steam.
An individual trap performance section to associate dollar loss to failed traps